"Second Life is a world; it is not a web page."
Prokovy said that, in one of the
latest rant-answers
on the SL blog. This attitude--that Second Life is not part and parcel of the internet--seems strangely prevalent on the grid these days.
Is Second Life a discrete world, a space, a singular environment? Absolutely. But it's
also
part of the net, formed
of
the net; witness the fact that when the internet is out, Second Life also can't be accessed. Unlike games like Minecraft, SL
can't
be played offline; the client is buffered by the web, by the net, the social connections only possible when the electronic ones are going, too.
Second Life is not a webpage; it's far more than that. But does Second Life exist without the web? No. It doesn't. And I'd go one farther and say that it can't--both in terms of code and culture. This myopic thinking that Second Life and the web are not linked...it
really
needs to die a well-deserved death, already.
In other news, massive flooding covered three-quarters of southern Queensland, Australia, in December 2010, and is still going on today.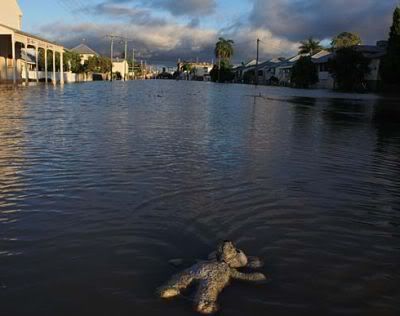 Over
200,000 people
have been affected, in an area that's larger than Germany and France combined.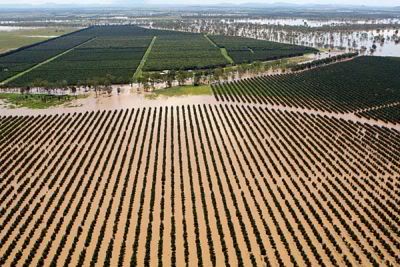 Crops are drowning on the vine. Nine people are confirmed dead; more than
seventy are missing
, and Australian officials expect the death toll to double--at least.
The biggest problem beyond just getting people and animals out is that so
much
of Queensland is flooded, including the airports. People can't fly out--airplanes packed with temporary shelter materials, food and medical supplies can't get in. Some of the work is being done with helicopters, but it's far from enough.
The Extend a Helping Hand charity, set up to fund recovery efforts by
Sanura Sakai
, now has a market in Second Life. For the next few days (until the 31st), you'll be able to get all sorts of items that will all go to helping flooded Queensland dry out.
Vocal
's one of the offerings; a cute bodysuit/shoes combo that comes in six colors for only L$100. Many of the offerings are between L$25 and L$100, because these merchants would rather more people support the cause than charge what they (reasonably) can in their stores.
Go to the
event market
to see Vocal, and to see all the other work on display. Miamai's turned out
savagely pink
and
glittery silver
party frocks; Rose River Saloon's
made both party pumps and comfy boots
, and the
Rumor
blog offers up a whole list of who's doing what. Go look.
The sheer
scale
of this is terrifying. This is Hurricane Katrina in
spades
. Queensland will be
years
recovering from this, if not decades. And considering Queensland's main industries are mining (which can't be done through waterlogged or flooded shafts), agriculture (the crops are dying, the cattle are floating away) and tourism (oh, yeah, let's go take a trip to the flood zone), they're going to be spending money they don't have just to keep their people alive.
All proceeds from Extend a Helping Hand events will go to the
Premier's Flood Relief Appeal
. If you don't want to shop and help, please consider making a direct donation.
(All rights reserved to the Brisbane Times for images used in this entry. Copyright is to the photographers and the paper.)