You know its not that big of a deal right? I mean we do this for fun and I hope all bloggers out there feel the same. We blog for the fun of it, not to have others pick us to pieces and find all our flaws. Really isnt that big of a deal.
That's a quote from Renee Lowenhart to the last thing I said on FabFree. So, I was going to leave this alone, but considering this is the second time Renee's played the "this is no big deal" card, I have to say something.
I just don't have to say it on the
FabFree
blog.
Let me start this off by saying: freebie blogging isn't easy. I've done it, I have friends who do it, I know some of the people behind the 'big' freebie blogs--it's not in any way effortless, painless, a cakewalk--and I doubt it ever will be. There's a lot of pressure to be the top of the list behind a new freebie, new discount item, new store sale, new cheapie...and there's not a lot of time to go back and correct things if mistakes are made. I
get
that, believe me.
Secondly, Stolan himself has admitted that English is not his first language. I get that, too, and I'm willing to cut some slack for not knowing all the rules, because--and this is fact, not opinion--English
is
the second hardest language on the
planet
to learn. (The first is Chinese, in case you're curious.) Anyone who manages deserves praise for that--and in Stolan's case, I believe he said English wasn't even his second, it was his
third
language. So he's not stupid.
That being said
...
The first I'd heard of him was for
his first post
on FabFree; apparently the first
mentioning
him had bypassed a lot of attention. I caught on to the 'Stolan Situation' when people in one of my groups began deploring FabFree's lack of standards. "They'll hire anyone" was how one lass put it. There were also comments wondering who Stolan was sleeping with to get the gig.
I'm not the one saying he is; I'm hearing enough from Renee to assume that she, Whisper and Carson (and you must admit, they
are
the big three at FabFree) just seem to mysteriously love the guy. Maybe he comes across better in person.
You'll notice tho I may not be big on any certain style, I do love me some colour, and playing with things that might not be ment for men.
Okay. As any reader of this blog knows, I have this twitch about proper spelling, and, to a lesser extent, proper grammar. Everyone makes mistakes, including me: no one is immune from the typo. But beyond being a blogger and a resident of the net in long standing, I'm also a writer, a reader, a poet. I value language and text-based interchange. I consider the printing press the way some people consider saints or holy places.
Words are big for me
, to be blunt about it.
And more--I truly believe that if we are to exist in a text-based medium, no matter
where
that is, then
it matters
how well we spell, how well we know the language. You will never,
ever
hear me say "It's just the net, it's not like it matters how we spell". Because to me, it does. It always will.
A further point:
I am a snob about this
. I won't lie--this is my full knee-jerk elitist coming to the fore and waving the flag for literacy. I run across people on the grid who have difficulty spelling, and I find out they're dyslexic, say, that's one thing. I run across people on the grid who have difficulty spelling, and they don't seem to
care
...that puts them in a different category, to me. Not to be
too
graphic about this, but consider the following example as a good illustration.
You've been invited to a party. There are going to be many different people there, different economic backgrounds, different educational levels, so you'll see a good variety of clothing styles, communication styles, and people in general. That's okay; that's kind of the point of the party. You're encouraged to dress attractively, but not specifically formally; and off you go.
There's around thirty people there. Some are dressed to the nines in full formal wear and evening gowns. Some are comfortably, but stylishly attired in sweaters and trousers, shoes polished, hair neatly combed. Some are in long flowing broomstick skirts, their hair beaded and braided and their faces wreathed in smiles.
Then there's the guy in the corner. He looks like he slept in his clothes. For the last week. You can smell alcohol on him--and that's not the
only
thing you can smell on him--and there are several stains, large and glaring, on his untucked, wrinkled shirt. His pants are torn, his shoes are unlaced, you're not sure he knows what a comb
is
, and he's spitting food on people as he's talking to them. He might even be doing that deliberately. He's hovering near the buffet, and whenever he pauses in eating something, he's wiping his hands on the curtains.
This guy? This is a good functional mental image of people who don't care about spelling in a text-based environment, to me. I view them with contempt, I view them with loathing, I think they are profoundly
doing it wrong
, and I feel very little personal guilt about it. Because after all, this
is
the internet, repository of a great amount of world information. Want to know how to spell better? It's called Google. For all the gods' sake,
education is a good thing
. And
no
one who has access to the net can say they are denied education, because if one is on the net--and on Second Life, moreover!--there are places to go, people to talk to, things to research--there's just no excuse for it.
None
.
So. Back to Stolan.
The port that worried me was the shirt. I did not have a thing to go with these pants. Then I was contacted by Song Grayson. She gave me the answer I needed, tho at the time I did not know it. Song gave me a bunch of giftcards to a few different stores that carried male product. I went to the first place, Grumble Grumble, and found this orange shirt. Now sadly I can't share the giftcard with everyone, but never fear! This shirt is a mear L$25!
Okay. I'm trying to hold in mind...non-native speaker of English. Check. English is hard. Check. He's new. Check.
Even so...
Part
, not
port
.
Products
, not
product
.
Mere
, not
mear
. And then I saw the shirt...
All right, another little visual exercise. You work for one of the more well-known freebie blogs out there. What you're looking for, overall: free things. What you're looking for
specifically:
that would be
high-quality
free things.
Whisper, for instance, is one of the most drop-dead gorgeous avatars on the
grid
, hands down. And while she's picked more than a few outfits I wouldn't wear, or knew looking at them they'd never look as good on
me
as they looked on
her
, for the most part she has stellar taste. And she looks for the little details as well--the primwork, the sculpts, the seams, the repeat levels. She's focused on presenting the best possible look for the least amount of Lindens, which is
not
easy, as I've said.
What, in
this outfit
, is high-quality? Go ahead, give it some time. Study it in
depth
. I'll wait.
Can't find anything? Go back and look again.
I went to
Rude Rebel
, just to see if the pants were as bad in person. No clue if they are or aren't; that parcel's for sale and there's nothing on it. A little assiduous searching found that they'd
moved to another part of the sim
, or maybe it was yet another typo of Stolan's, because his SLUrl said 67/173/24, and mine says 6/173/24.
I found the Asian pants; turns out they're a set of three, all free, on the far wall once one walks into the building. I tried the brown: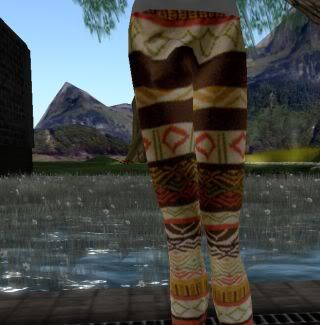 and immediately pegged the problem with Stolan's image. These are shabbily shaded, start to finish. I will give the maker full points for trying; this pattern would be insanely difficult
to
shade, and what's worse, there seems no way to match the seams up on the sides: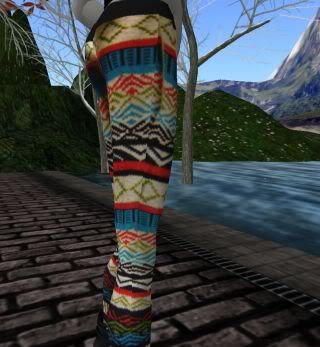 And it's something that persists through all three designs.
It's just not a good set of leggings, hands down. Free or not.
I also went to
Grumble Grumble
and checked out the shirt. Or at least tried to; I got distracted by some of the offerings in womenswear first. Like...this lovely number:
I can see any number of rape/murder/dark alley RP sims where this would be perfectly appropriate. But in the, shall I be so bold as to say,
sane
grid? Where would one
ever
wear this? At home for the lad? Or as a quick-change to go with that rumpled purple t-shirt one owns?
If one owns one...On the larger image, by the way, there's another "shirt" to the side...again, if one calls two scraps of striped fabric with wide ribbon a shirt.
I passed by the pants section on my way to finding menswear, and caught these: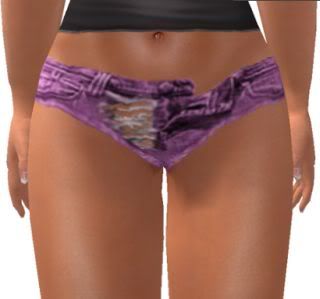 Anyone who's curious can see the ones I didn't feel I could post without an age restriction warning!
Even her long dresses seem to be built for streetwalkers. This is a lace floral dress she has three variations of (the large image shows all three):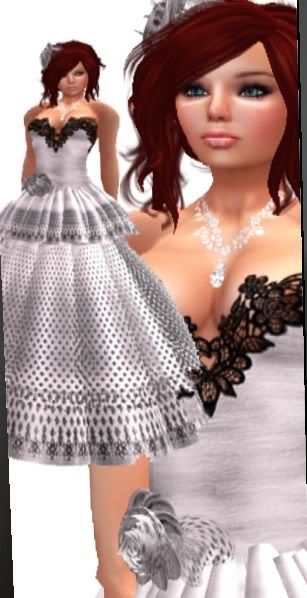 There's just no way you could wear that, unless you want to flash nipple. I don't care who you are--a bra wouldn't look right, nipple tape is right out, and it fails at being both elegant
and
slutty, because it's not enough of either to qualify!
As it turns out, "Grumble Men" is upstairs. And I found the orange shirt.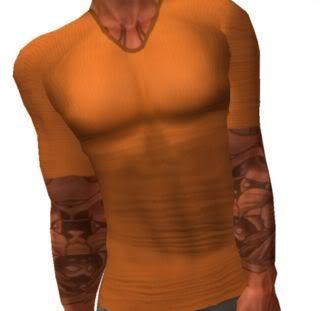 And that's when my brain fell out. Because, while she designs clothes I wouldn't wear on a
bet
, she
does
shade pretty well. Unless the whole of her work is retinted template business-in-a-box stuph--and, while there's a scary diversity in tone that suggests such, there's no direct external evidence--she just...forgot everything she knew how to do when she made the orange shirt.
Or
, it's a really, really
old
offering that she's never gone back to fix.
Around the corner from the orange nightmare, I found these:
This is listed as a "Goth" shirt (the hell it's goth); and this: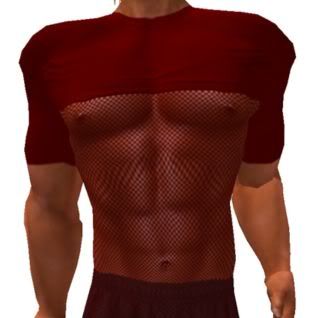 Ah, yes, clubwear for your typical slut-for-hire steroid warrior on the grid. Marvelous.
All in all, at Grumble Grumble you can't argue with the pricing (you really can't, she puts Bare Rose to shame with her prices; most items are under L$150, and the bulk of her product line is L$25 to L$55), but...really, how cheap does something need to be to be too cheap? I don't care if the pushed-up shirt outfit is L$25; it's going to make me look like a ten-Linden dive artist. Forget it.
How'ver, having read through the original entry that this rant is based on, for the fourth time, I'm going to advance the radical notion that this all could be just because he's
new
to the grid--that he doesn't have the discernment yet to pluck outstanding designs from crap, and he, frankly, doesn't know any better. And I could be really cranky and say he sounds pretty young RL, too, which could also contribute to the lack of taste and style. And these are all things he'll grow into as the grid days fly by.
Still...he says spellcheck doesn't work, and if that's really true, fine; dig up a dictionary or something. Or have someone--I know, this is a shocking and astounding concept!--
proofread your entries
.
But maybe I just don't get it. After all, I only occasionally have time pressure issues on this blog. I am not trying to break the latest freebie, the latest hunt, the latest store sale. I'm not in their category, and I'm not saying that dismissively; I'm just explaining I don't have the same push to get things out, regardless of how badly things are spelled.
But I would advance the question of time, here: if all of this is just a question of he'll shed the newbishness in time, then...why not
give
him that time? He has a blog of his own, which is fine; why not let him age and mature there, and
then
hire him on to Fabfree?
Because as it is...he's just dumbing everything down. And the more Renee and the others defend his deficits, the more it tarnishes everyone on the blog.
Okay. Enough of that. One last thing: check out what may be the coolest lucky chair
ever
. It lives at
Covenant Realm
: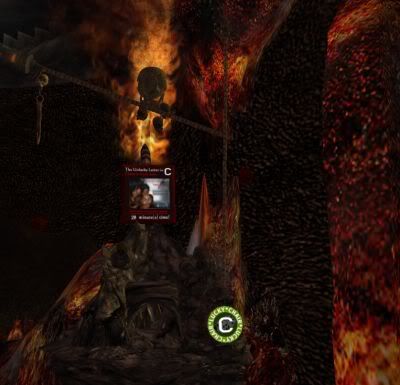 Does it even matter what the chair's
for?
Go see it! It has fire! It has dangling skulls on chains! It has poses! It has a winding stone staircase!
Seriously, it's just an insanely cool build. Demonic? Sure. Hellish? Absolutely. Cool, though? Yes indeed.