And another day in the life on Team Fortress 2...part II!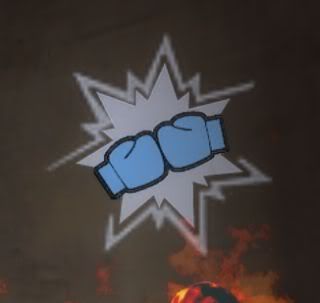 10001011101 again as a Soldier, shooting me to death with a rocket. A note: when a player guns you down twice--and you didn't kill them once in between times--they become your Nemesis. At that point, the game puts a little boxing-glove combat graphic over your head, presumably--at least in my case--to make you feel even
worse
when you fail to gun them down
again
.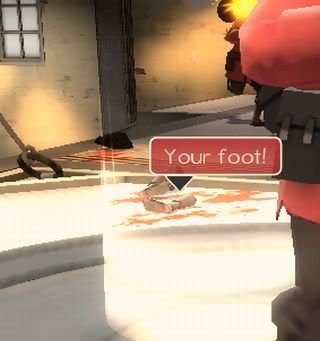 Valve is so
helpful
when you get blown to bits--they do their best trying to identify which bit landed where.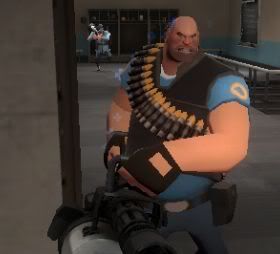 Oops. He looks angry.
Guess I shouldn't have toasted his Medic.
This is what happens when you round the corner just in time for a Medic to unleash the Ubercharge. Ubercharge makes everyone connected to it shiny--and invulnerable to all damage.
Damn it.
Considering how much death and dismemberment goes on in Team Fortress 2, there's not a stunning amount of gore and violence--at least,
realistically
speaking. Pull up the full size of this and you'll see what happened the instant
after
I died at the hands of CEDA; it's like tomato soup in a blender.
With boots.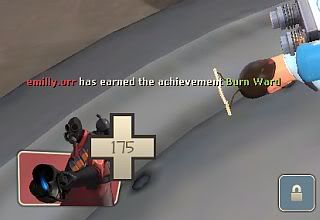 You can earn achievements for doing things in the game, depending on which class you are. Burning a Medic to death who's just captured a point? Is one of them.
Sorry, Fawkes.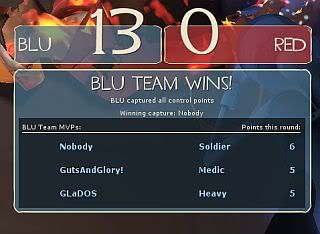 When you win a round of TF2, you get a little pop-up telling you so. When the winning side gets this, they get a little free-range mayhem--several seconds where they can run around taking heads. Normally this means fire, shooting, or stabbing, but at least in one case--the Demo-man when he's equipped with the Eyelander sword--it will
literally
take heads.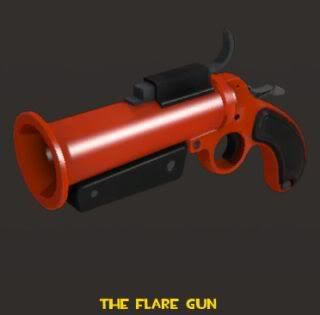 You unlock enough achievements--it's generally eleven for the first one in any class, and from there it varies--and you get special weapon 'drops' that the game hands you. They can be special event drops--I have a crumpled top hat that originally came out during the Halloween event--or ones tailored to your class.
This is the Flare Gun. The flare gun is a reasonably long range weapon that shoots ammunition at any enemy which will light them on fire.
I am in love with this weapon
. It's made burning people to death SO much easier.
*coughs*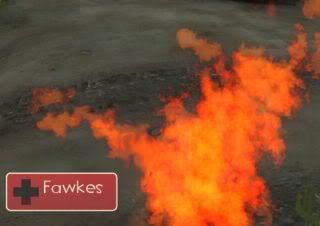 Welcome to the Spy's secret hell. The Spy is a fun character. They creep around cloaked and invisible, or disguised as someone else on the enemy team. But when a Pyro lights them on fire...well, it really doesn't matter if it's just a bunch of flames running around, attached to a guy the other team can't see. They'll
still shoot at the flames
.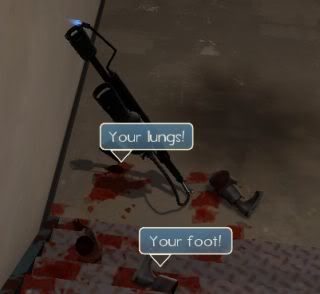 See? Valve being helpful again.
And how do they
know
those are my lungs? Do they just
look
more lung-like than the other bits?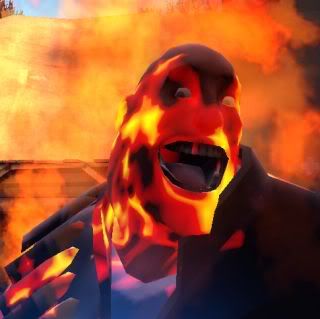 Apparently, when you are playing Heavy Weapons Guy? Only
one
of your teeth can burn. I did not know this. I have knowledge now.
I hate Pyro vs. Pyro battles. Just sayin'.
Mainly 'cos I
always lose
. But more, because he
always wins
.
The bots cheat.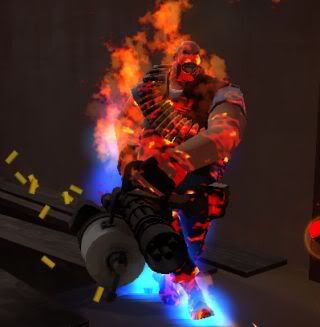 Witch shot me with the mini-gun. But I set Witch on fire before I died.
(That probably shouldn't be funny, considering, witch, pagan, Burning Times...but I'm morbid. I found it
hysterical.)