One day after the announcement on what's appropriate for

XStreetSL

listings regarding copyright infringement, people

on the grid

are getting hit with Abuse Reports on violating copyright. One of those people? Winter Ventura, who also

responded

to the blog posting:

Aug 11, 2009 6:36 PM in response to: Blue Linden
What about Fandom?

Interesting set of rules, with an interesting lack of tolerance for fandom.

Examples:



*

Star Trek Uniforms


*

Batman Costume


*

Homer Simpson Avatar


*

Gorean... anything.

These types of items have formed the backbone of Secondlife's avatar economy. A new movie comes out, and the content creators spring into action.

Transformers

,

Iron Man

,

Robocop

,

Lara Croft

... Now you tell us that these items are expressly forbidden.

What does this change mean for the thousands of content creators making items from the "GOR" universe? (will you be removing your "gorean" categories?) Can we assume also that your Anime Avatars and [Fairy] Tale categories will be going away too?

Gone will be the

Barbies

and

Cinderellas

and

Alice in Wonderland

avatars. No more outfits from the

Matrix

, no more

Captain Jack Sparrows

.. no more

Mechwarrior

mecha, no more

Batmobiles

, no more

Cylons

or [

Battle

] Droids, or

Jedi

robes. No

Lightsabers

,

Portal

Guns, no more

Halo

gear, and no more

Stargates

.

What an interesting world of imagination you're building here.

Pink Linden

responded back

:

Winter,

The imaginative world of Second Life is still available--items that no one has ever dreamed of can be made by anyone with imagination, talent, and desire. In addition, there are business opportunities to obtain rights to produce real world branded items in Second Life--with permission from the rights owners.

So essentially: it has to be original,

OR

you have to be involved in a small enough fandom/roleplay community to get effective permission,

OR

you have to so substantially alter the item in question that it looks like a completely

original

item...at which point you might as well give up and make original things.

But none of

that

is the point, because--

nothing applies to the grid yet

. It's

just

on XStreetSL--for now, at least.

But as expected, the Lindens hand down a policy with

any

vague content whatsoever, and people misunderstand it to the best of their ability. So people are having

grand

fun currently tossing around Abuse Reports and screaming in IM at each other for assumed "violations".

Oh, yeah, this is going to be

fun

for the next few months.

Pursuant to the above...

maybe

, if only sidewise...oddity found out researching the

summer stamp rally

run: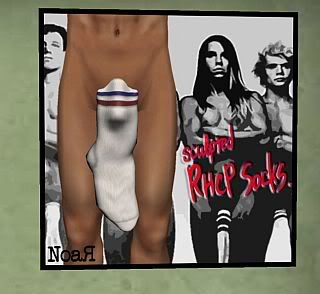 This is, uh, available at
Anuenue
's 'brother' business, NoaR. Sculpted and everything.
I guess...if you're
that
much of an RHCP fan??
I suppose, were this listed on XStreet, you could just handily remove the references to the band, and pictures of Anthony Kiedis and Flea...and it'd likely still fly, but...it's
still
baffling.