Do not go here
.
Oh, you want a
reason?
Well, then.
First, I've been standing in place, not moving, for
twenty minutes;
the sim is
still
not done rezzing in. Partially, perhaps even
mostly
, this is because the rocks, the
trees
, the
very soil of the sim itself
--are all SCULPTS!
ARE THEY INSANE?!?!
They have to be. They have to be taking
serious
Second-Life-altering drugs.
It's not even worth waiting for the art to rez in, either, for all it's very impressive--
Because it's
one hundred and eight
prim!! I mean yes, it's beautiful, and yes, it does make quite the visual impact. But really--ONE HUNDRED! AND EIGHT! PRIMS!
And also it's behind
a wall: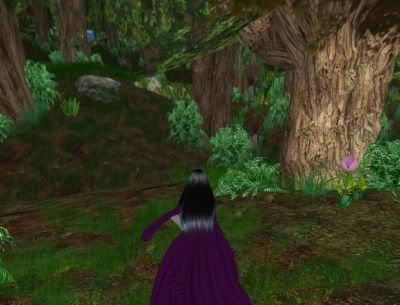 So really. Honestly.
Don't come here.
Want more reasons why not to come here? I was standing, in the last picture, next to a butterfly-spouting pink tulip, and could barely move. So I turned, to face a
barely
animated glade, and my frames per second
surged
to the
blinding
forward speed of...
*breathless pause*
...
1.3 fps!
Astounding!
Yes, I'm being sarcastic.
That's just
slightly
over one frame per second, for those not keeping score at home. If you need a local reference for such numbers, dear friends, let me put it this way--were you to find a two-hour motion picture moving at this speed, you'd need a goodly supply of food and tea, and perhaps a very comfortable chair, and certainly a blanket, because you'd need a little less than sixty hours, I believe, to watch the film.
A
hand-crank operated Nickolodeon
machine is
faster than the frame rate
I have now. Phaugh.
(Though I do heartily recommend reading the artist's profile, the one who created the one-hundred-plus prim Icarus? Because there are moments of sheer joy to be found, reading the words of Nomasha Syaka.)
After yesterday's Wake-that-Wasn't, some few of us gathered at a seaside pub named the Salty Mermaid. I didn't catch where it was; I was in something of an odd mood, not bad, necessarily, just wondering about the oddity of the wake and the survival propensity of certain Expedition members.
[Insert from the Editrix: it turns out this is an establishment in Kittiwickshire, owned by the reknowned Professor Oolon Sputnik. Lovely little place.]
I think I was fine until I asked for a drink. And mine was...glowing green, and reminded me oddly of apples and citrus in taste, but...looked like cavorite blended with ice. It started to levitate, and I grew worried, and Miss Neome said, oh, that sounds like fun...
So I gave mine to her.
I'm not sure that was any better. Because she couldn't get close enough to *catch* it so it would *stop* floating!
Odd drinks in the Salty Mermaid. But a very clean, efficient space, and close enough to the docks to retain that lovely crisp salted-air smell. I'll have to go back when they're not stocked with odd floating fruit drinks...