More information on the banning at the Caledon Fourth Anniversary party.
"By acting as the hostess for Caledon's anniversary party, she is acting with the Guvnah's voice. And I know a public banning of ANYONE to this event is not what he would have wanted done in his name."
I tend to agree. The
main
problem here is that it's already over with, the damage is done. Apologies may come (I tend to think not), but from everything I've heard, this wasn't an isolated incident, it was
all
dances hosted at this location, and
more
than one person banned from them, by this host.
I didn't go to the main 4th Anniversary ball, not because I didn't want to, but because I'm still having difficulty breathing, and I tire easily. But I don't think it's overly paranoid to wonder--had I gone, would I also have been banned?
This sets uncomfortable and galling precedent. Because Mr. O'Toole is right, on this thing--whomever hosts the dances for an official state event, hosts as Desmond Shang
in absentia
. While each person differs, and there is no word-for-word accountability standard, those who host official events are, in this sense, acting with full accord of Des for their actions.
Logically? We can likely dismiss this as an aberration and move on. What does it truly change? But ethically, this is far thornier. Ethically, by this definition,
Des
wanted those people banned, which I don't believe for a minute. But by this definition, Des also
supported
the banning--and again, the banning of
more than one individual
at
more than one event
--by the fact of the ball's host banning these people.
This sets an excruciatingly poor example. And it's deeply saddening to hear.
In other depressing news, according to Ann O'Toole, creators will no longer be able to save full permission textures to their
own
hard drives, for use in creating clothing to import
back
into Second Life, without such practices being a violation of the Linden Labs'
Terms of Service
.
This is staggering. This changes the
entire
game. And this may well be the start of the nails in the coffin for content creation on Second Life--or, as Miss O'Toole puts it, "Mark Kingdon's new facebook life".
'Facebook Life' may be becoming more appropriate; without creating our own textures, and modifying them off SL,
THEN
importing them into world, taking pictures of them against backgrounds we have created using prims that we have textured, then taking
those
images off...oh, wait, will we even be allowed, come Aprille 1st, to save
any
textures/photographs/images to our hard drives?
Potentially, using even the literal interpretations, this kills:
* clothing designers
* home designers who take textures off SL to add windows or aging
* furniture makers who take textures off SL to bake on shadows
* photographers
* filmmakers
Is this the SL we want? A world where thee
is
no user content? A world where there is nothing that we can do that won't be a violation of LL's ToS? What's next, webpages set up for people to pass textures to each other under the table to modify? I can see it now: Nighty Goodspeed sets up a web page. I buy the Isfahan Pavilion set but I want the door a different shape. I can do that in Gimp, but I can't export the texture.
I leave a coded message for Nighty on the web page's forum. She pulls up--out of world--the Isfahan Pavilion texture pack. She sends it to me encrypted with the key. I match my key to hers, decrypt the texture, make the edits I want, then send it to her email.
Nighty opens her email, and imports the altered Isfahan texture, and sells it back to me for whatever price we agreed upon, so I then have legitimate in-world rights to use the texture
she
made and
I
altered and gods, it's sounding like it's easier all the way 'round to play City of Heroes.
In the meantime, I've been following a lot of random links to random boards today from
Schnaeppchen's blog
. One entry she has is on the new Lucky Chair offerings at Violent Seduction (a group I'm also in). This is the Broken Hearted skin: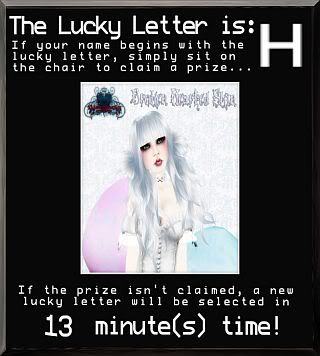 And this is the Buckled Up black gartered outfit:
Last night I
finally
won the outfit, but I'm still trying for the skin. It's very frustrating.
But I don't have the patience or the strength to build, and I'm not looking forward to playing a Second Life where we are only gamers, not creators, not builders, not dreamers of the dream. It would, in my opinion, profoundly lack what I originally started playing SL to gain: the ability to create, to see what's in my head, in three dimensions on the grid: to learn from other creators, to see what they create, and to take what I've learned back to my drawing board and learn to make better, build better, draw better.
My
world.
My
imagination.
But M Linden doesn't see it that way. Facebook Life, here we come.