Heard the last week that Martian Wei's beautiful sim, October Country, was gone. I asked around--because that's one of my favorite places on the grid--and a friend passed me a notecard explaining why.
Martian Wei here.

The October Country has been destroyed.
From anyone else, that would seem absurdly dramatic. But this is Martian Wei. He is a man of few words, a man of silence more than sound, which is all the more surreal because his love in life is audio theatre, old radio broadcasts, live readings of important works. This
was
the heart of the October Country: the constant audio stream that played readings of the Lord of the Rings, Lights Out, Inner Sanctum, The Price of Fear, Suspense, Dark Venture, Twilight Zone, Flash Gordon, the Shadow...and so, so many more.
I was told tonight that I like to "trample people under my feet". That in essence, I'm not a good person. I was told a lot of things; here are just a few examples.

I was berated because I did not clear it with my staff before I hired a Roleplay person for Innsmouth. I was berated too, if you can believe it, for the Tuesday Picks contest I just implemented. I was condemned for not communicating enough with them, as if Second Life comes before real life, or your family.

All of this, despite the fact that I'M the one paying hundreds of dollars a month to keep the OC afloat. Not them. But like I told them, I've asked them before if they want to pay for the island equally. The answer was NO. But they somehow think that all decisions should be shared equally, I guess.
It may shock and startle people, but sometimes it must be stated as plain and stark fact: if we do not pay the bills, and we are not invited to make the decisions, then we have no voice. Plain and simple. If we do not help to support the dream, we cannot criticize it when it falters. It is not our place. It was
not
the place of his staff to store up resentments and frustrations like diamond chips, and throw them by handsful at him as soon as they got the opportunity.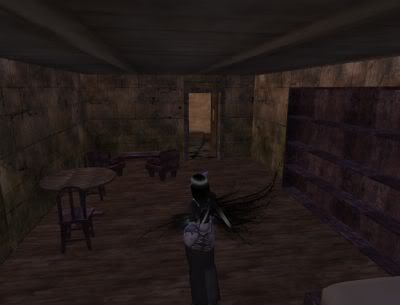 These people, instead of coming to me when they had an issue with either real or imagined hurts from me, decided to just talk about me behind my back. People who are supposed to be my friends. I have always believed that if your friend does something that bothers you, you should tell them. That way, you get it out in the open, you both talk about it, and it gets dealt with right away.

This was not done.
Anywhere you went in that sim, you constantly heard voices. Speaking, singing, screaming, crying, laughing. In pain, in fear, in anger. Voices. Voices from the past, whispering to the future.
I tried transporting there, and no luck. I just couldn't believe it, even though I'd read the card, even though I'd had no luck going. I kept trying. For two days.
Nothing. It's just
gone
.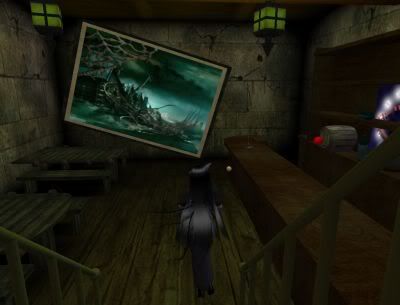 Instead, they laid months and months of criticisms on me last night. Chief [among] these was that I'm not in SL enough (in the form of "you're never around"). Apparently, dealing with real life is not as important as Second Life is.

Let me be clear. I have a chronic illness, and it's getting worse. I have massive pain constantly. My wife is being stalked. My business is suffering because of the economy and because of my illness. I have a son to raise.

2 of the 3 people criticizing me have no idea what it's like to raise a child. And believe me, until you have a child, you may THINK you know something about it, but you know NOTHING.
One of the larger problems on the grid is the outer world's perception of it as a game. As I've said to people, SL is a game, played with human hearts and minds. Put that way, SL ceases to be in any terms the average game: because there are no quests, no specific goals, no quotas...it's just--
life
. A different one. A
second
one, where mistakes can be made, loves and losses can be experienced in full, businesses can succeed, sims can fail...and hard-fought dreams can shatter.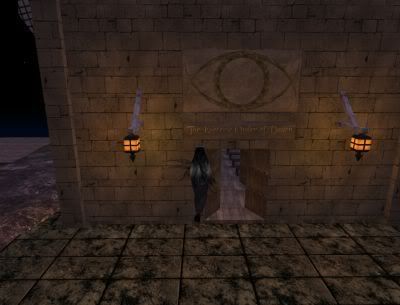 I am NOT perfect. But I have NEVER been confronted with something that I've done and not said "I'm sorry" -- that is, until tonight, when months and months of supposed iniquities were thrown at me at once.

I asked myself, why do these three people think I'm so evil, and the people in my REAL life know that I'm not? Why do the people in my real life look at me as a good person, as someone who helps people? In fact, ego aside, I'm looked at as an EXAMPLE of someone who helps others. The two main "family slogans" that my 6-year-old knows is: (1) NEVER GIVE UP and (2) FIND A WAY TO HELP OR BE KIND TO SOMEONE EVERY DAY.

Yet, these three people don't see me that way.

Why? Because in the real world, if you're going through something and you're quiet, you can communicate in other ways. If you're quiet in Second Life, that's IT. You're a jerk, because you're not talking. Or you're a jerk, because you're not around. SL is limited because you can't smile, you can't pat someone on the back, you can't wave, you can't do a million other things.

After two and a half years, I have figured something out: Second Life attracts drama. I have never been in a place where not being able to communicate with someone gets them so angry. I mean, when I'm online, I get IM after IM. And if I don't answer them ALL, people get PISSED!
It's so disheartening, but I've seen it happen, over and over. One vision, one heart, one spirit...that draws other people. And if those people see the vision truly, feel the dream correctly, it can be a wonder and a dream of a different kind to share the vision.
But if those people share only part of the vision...or share a different vision entirely...then we come to the place where we are berated for doing what we thought was best to save what we loved. By people we
thought
understood why we tried.
It is the most brutal sort of personal shock to realize that we think one thing about a certain idea, and others think a separate thing,
but we thought it was the same thing all along
. Normally, people give hints, drop clues, and over time, our understandings can shift and resettle. Not so with the people who say the right words, encourage in the right ways...and then, to us, mystifyingly seem to turn, enraged, because we did not do what they wanted.
When were we to know?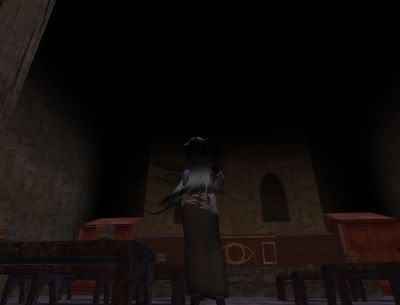 I get burnt out from all the emails in my RL business, all the phone calls, all the IMs in Second Life...etc etc etc. But... somehow, it's all supposedly personal with these three people, they thought.

Well, it wasn't. I'm not good at getting back to people in a timely manner because I've got so much on my plate. Because so many people seem to need me. It's not because I'm mean. It's because I'm tired. I'm so tired. This illness makes me so, so tired all the time. It's all I could do to keep going on this sim.

I really wish that these three people would have just come to me and talked to me. They chose not to. Then tonight, one of the others gave me the dressing-down of my life. When he was done, I just sat in my chair and felt lower than low.
Because all this time, Mr. Wei had a vision. Mr. Wei had a dream. And people gathered, he thought to share that dream. Moreover, it hasn't been easy for him and his wife; forget the mention of stalking, let's talk about the fact that last year, they lost their
house
. It burned to the ground. And at that point the community came together, donated what they could, told their friends, helped to save the sim.
A year later, and no one wanted to save anything; just accuse Martian Wei.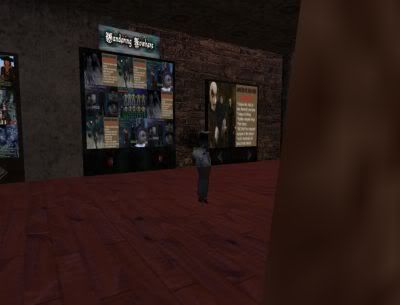 Can you believe that he even got onto me for the video I made? Of my own island? He said that I should have involved them. On the one hand, they are complaining that they were working too hard, which if I'd known, I would have begged them to stop. But on the other hand, he says I should have had them help with the video. I can't win!
How could he, presented with such opposition? He has people wanting more power. Do they want to pay for the sim?
NO,
he is told resoundingly. So he makes the decisions for the sim.
Because it is HIS SIM
.
Let's talk Caledon for a moment. Des is right when he says it's not him, it's all of us--if all of us, every Caledonian, dropped their properties and walked away, Caledon would die, with nary a whimper.
We don't do that because we see the dream, or at least the parts of it we can--
and what we see, we support
, by and large. That seems to be the important difference. Mr. Wei's people, they weren't so focused on support. They just wanted their wrongs redressed.
Have I ever done anything wrong? You bet. In fact I bet more than most people. Sometimes I get pretty down on myself because I feel I could be better. But no one is perfect. And I will NOT apologize for "lack of communication", because I'm always available through my cell and my email, which these people had access to. I will not apologize for putting my wife and my son first. I will not apologize for having a painful illness.
Did they expect him to keep the sim open, or to transfer more power to them? Likely. Did they want the sim to die? Probably not. Did they ever see that their choices--to berate a man already beset with life difficulties, financial woes, above and beyond our grid--would drive him to swift and decisive action? No.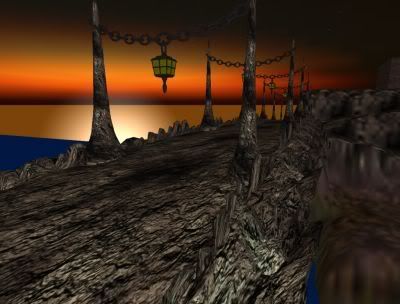 On another subject, tips have been WAY down lately. I have been very stressed about how to pay for the October Country. Very few people responded to my blog entry about ideas to generate money for the island, so I took that as an omen as well. What happened tonight just kind of seals things.
But they should have. They truly should have. More to the point, they should have
known better
.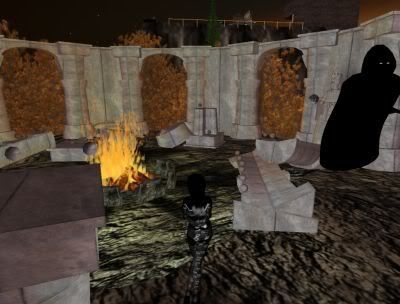 I really appreciate the time I have been able to spend with all of you. All I wanted to do here was to create a place where people could come, hang out, make friends, and listen to the shows I love so much.

That dream is dead.

If I owe you money for the rest of this month on your rental, or for any other reason, please let me know. It is not my desire to cheat anyone out of anything.

I am never coming back to Second Life. If you want to contact me for any reason, you can do so via email at [his email address].

I will miss all of you, and the campfire, very much.

Your friend always,
Martian Wei
I will miss the October Country. It was a magnificent build and always lovely. I never had a single problem at the campfire, and I went there often just to walk and enjoy the evening air.
These are all the pictures I can find currently of my trips through October Country. For those of you who've never seen it, this is but the merest taste of what excellence it was.
But more than missing the sim, more than regretting his decision to close it, all of this is pointing me directly at one inescapable point:
none of our actions here lack consequences
. We love, we part, we argue, we rage, we protest, we laugh, we weep--whatever we do here, if we do it in the presence of others, then becomes larger than just us; more than just our own concerns.
Because while the world is imaginary...the residents are not. And it is easy, far too easy, to injure those whom the world has already hurt.
Martian Wei is gone. October Country is gone. And one more brilliant, beautiful thing has left the world, never to be seen again.