[Why yes, I did alter all the pictures with cutesy little hearts to appease the idiots over in PhotoBucket censorship. Why do you ask?]
I won't go out on a limb and say
every
time I go freebie-hunting, something like this happens...but it is becoming a trend.
Miss SunShine Philly, everyone.
She was born the last week of January, 2009. She's already apparently happily married, and kudos for her; it can be difficult finding your soul mate on the grid.
I have to admit though, my jaw hit the floor once she rezzed in. Maybe it's Caledon mores growing on me, or...
Well, no. For one, I do not understand the backpack-of-holding trend. I just
don't
.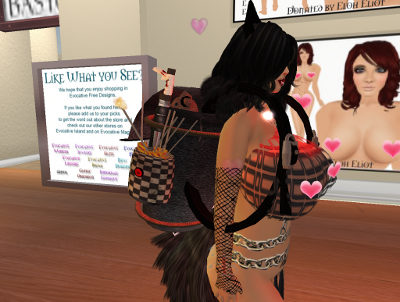 Also, I have to be honest, I swiveled the cam because I truly didn't believe what I was seeing. Were those
really
prim boobs,
that
badly adjusted?
Why yes. They were. Dear gods.
And the bling shoes. And the bling backpack buckles. And the bear with the heart poofer sticking out of the back flap. And the insane-glow-for-miles
collar
...
Clearly, I had to know more about her. I opened her profile.
Im your Mistress i am your SunShine Iam your pain-slut you anr my submisve you are my Love you are my BITCH
--and that's where I stopped.
Wau. Just...wau.
She's also been to Caledon:
great place if you like closed mided idiots so if your gay lesbian dom sub or any no white race feel free to stop by for the warm welcome this lesbian got
Well, my dear...if you showed up looking like that?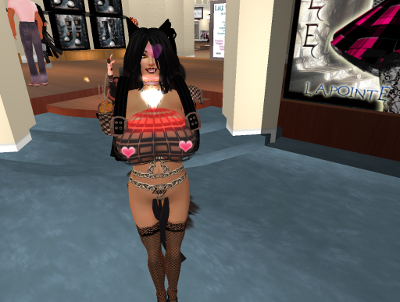 I think our citizens can be excused for not welcoming you with open arms...I mean, I like to think, by and large, as a population we are fairly tolerant of others' foibles...but to a point. If one desires free access to the teahouses and the strolling parks of Caledon, and one also desires to do so in fishnet stockings, exposed genitalia (the
kitty
tattoo slays me...as if there was any doubt), chains wrapped tight enough to indent,
and
carries a backpack that is so very large, it is quite possibly the only object that
could
counterbalance those breasts...
...well, one or the other of your desires is in error, isn't it?
The
House of Ruin
is having a Valentines' Day heart hunt. Find nineteen hearts from House of Ruin (fourteen of theirs) and AET Eyez (five from them); it's not that hard, though there are decoys. Some of the decoys are in
very
odd places.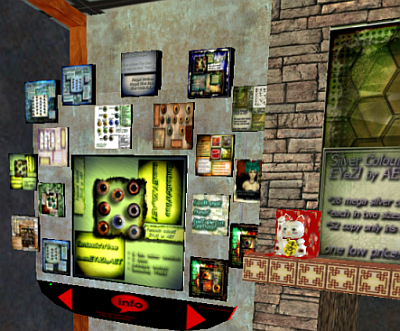 It's worth going to even if one is not interested in the hunt. For one, they have a great many eye giveaways scattered about--from full-on freebies to Linden-only offers. For two, most of their eyes--from both businesses--fall between twenty and thirty Linden to acquire--and most of the time, even single sets of eyes are sent out in pairs, because there's a day version, and a night version. Very interesting.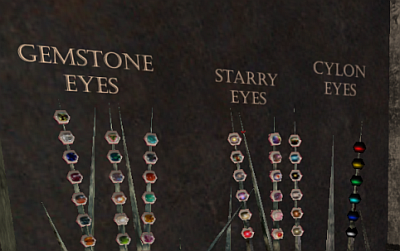 Drat, now I can't display eyes on spikes. I'll have to come up with something else. Alas.
All in all, though, for once, the hunt does exactly what it's supposed to--invite people to come see their business, wherein one can investigate eyes, for just about every need save neko, as well as artwork and some amusingly fun details (check behind the fire in the side room, is all I'll say), in a fairly quiet and unusual build. This is never a bad thing.
They even have a subscribe-o-matic. Keen!