We wanted to do something special for the Radio Riel office party this year. Sadly, our Fearless Leader, Duchess Gabrielle Riel, couldn't be with us, but we were granted the use of Coquette, newly arrived on the grid. It was a lovely little spot; still snowed in, but very pretty.
Every DJ we could contact to be there, was. I ended up arriving late, because SL was having issues, but as it turned out, everyone else was having problems, so they'd only just started the spin-off when I arrived.
These were the assignments for each musical set, sent out by Duchess Gabi:
Rik - Baroque and Contemporary Celtic

Dia - Medieval and Early Rock and Roll (50s-60s)
Soliel - Renaissance and Contemporary Pop
Gabi - Classical and Disco
Edward - Big Band and World Music
Mitsu - Romantic Classical and Contemporary Electronica/Dance
Laird Brideswell, Elrik Merlin, was playing the acoustic version
Herr Mannelig by In Extremo
when I got to Coquette
[actually, this was Dia, I'm informed]
, and earlier, he'd played tracks from
The Bones of All Men
by Philip Pickett and Richard Thompson, and "Scotland the Brave" from Celtic Grooves (Ian Campbell & Brad Rogers).
Then we moved on to Duke Murdann, Otenth Paderborn, who'd decided at the last minute to play in. He was followed by Duchess Diamanda Gustafson, then Soliel Snook, I believe, then Sir Edward Pearse, and, since Dr. Mitsu Figaro had not yet arrived, we started again with Elrik.
[Editrix insert: reverse these, somewhat. It went Dia, then I think Soliel, then Otenth]
I don't, sadly, remember who played in which set (I should've posted this yesterday, when I knew who played what), and I don't think I managed to get all the songs, but roughly in order, this was what we heard:
Duchess Diamanda led off with "Trotto" by Angels of Venice--I had little luck tracking that down, but I did find "
Within You Without You
", which has a similar feel. From
there
we went to "Herr Mannelig" (the acoustic version), and we were off:
"
Berkay Oyun Havası
" (I think) by Mogollar (Turkish rock band, and I
have
to hear more from them!)
"
Miserlou
" by Dick Dale
"
Hawaii 5-0
", from the series of the same name
Soliel Snook picked up from here with "
Alone Again Or
" by Calexico, and then what's becoming a mutual Radio Riel love affair with the boys from Germany:
"
In Taberna
" by Corvus Corax
"
Mercy
" by Duffy (I do know Soliel Snook played "Mercy")
"
Tainted Love
" by Max Raabe and the Palaster Orchestra
"
Glenmalambo: Glenmore
" by Macumba (this isn't them, I don't think, but it's the nearest I could find)
"
La Serenissima
" (the extended remix) by Rondo Veneziano (I believe we'd cycled through everyone, and were back to Elrik at this point)
[Editrix insert: Actually, we'd gone past and were at Dia again for the bit from Garmarna:]
"Polska" by Garmarna (I couldn't track down any mention of "Polska" anywhere, but for a taste of Garmarna, try "
Den Bortsalda
")
"
Saltarello/Ductia/Trotto
" by Corvus Corax
"Hullunhumppa" by Korpiklaani (I couldn't find that song, but I found
this one
--got me what it's called, though, but it gives you an idea of their sound)
"
Sabre Dance
" by Skyclad
"Rockibus" by Teribus (again, couldn't find anything, but
this clip
of their performance at Silverleaf Ren Faire, and the
Bagad Suite
by Teribus should serve as an introduction)
[Then it was Soliel again:]
"Rumba Escocia/Cro Chinn T-Saile" by Salsa Celtica (again, failed to find
that
, but found
this unlabeled snippet
and
this bit of bio-musica
instead)
"Sweaty Things" by Braxton Bragg (friends and neighbors, you don't even WANT to know what comes up when I type in any variation of these words--suffice it to say it's not on YouTube and we're moving on)
"
Personal Jesus
" by Johnny Cash
"The Little Drummer Boy" by the Klezmonauts (this one I know Otenth played) (also, couldn't find it for perusal, but did track down the "
Tangissimo
" and "
Donna Donna
", both performed at the Llanidloes Green Fair, October of 2007)
"Carol of the Bells" by Abney Park (couldn't find anything, but have a taste of "
I Am Stretched On Your Grave
" which is done wonderfully well by AP)
"Dance of the Sugar Plumb Fairies" by Abney Park (again, no joy, but I found a live performance of "
Herr Drosselmyer's Doll
" by AP)
"
Airship Pirate
" by Abney Park
By then Mitsu was there, and led off, in usual style, with inventive J-pop:
"
Cloud Age Symphony
" from
The Last Exile
"
UB Devoid
" by Way Out West
Unfort, I missed her next number, but we picked up again with Edward's set, which (I think) started with this one:
"
Do You Want To
" by Franz Ferdinand
"
Blue Monday
" by New Order
"
Paint It Black
" by Inkubus Sukkubus (and I will agree with the folk on-site, there is a delicious irony to a goth band singing this song)
"Walk On the Wild Side" by the Wiggles (Edward played this, and I can't track it down, but just imagine
this song
being sung by
these guys
)
"
I'm On My Way
" by the Proclaimers (which is one of the world's bounciest pop songs anyway)
"
Doctorin' the Tardis
" by the Timelords (and shock! Horror! We got through this without one single Dalek--though Edward did transform into a Cyberman)
"
Big Balls
" by AC/DC
"
Start Wearing Purple
" by Gogol Bordello
"
Biker Chick
" by Jo Dee Messina
"
You Can Leave Your Hat On
", aka Soliel's theme song (weirdly, I couldn't find the actual
video
, but I found this piece--which is possibly not safe for some workplaces)
"
Black Black Heart
" by David Usher
and we ended with "
Black Milk
" by Massive Attack.
(Towards the end of the party, we dance in beautiful, snowy Coquette.)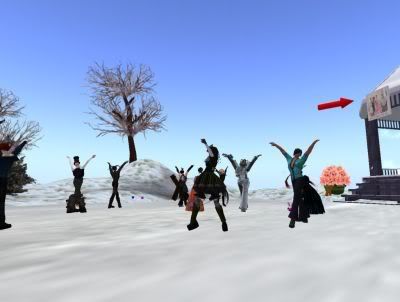 (Another angle. Note presence of large red arrow: Coquette's coquette-in-chief, Edwina Heron, had tired at that point of folks asking her where the dance machine was.)
All in all, it was a great way to send out the year. By the way, anyone who does remember, fill me in on who played what? And I am
so
looking forward to listening at the next office party!